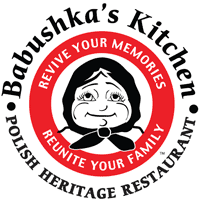 Welcome Back!
Although Babushka's Kitchen no longer serves up your favorite Polish-American heritage food, here are some memories for you from the restaurant. Soon we'll start to post recipes and more photos of your favorite soul-warming foods. Join our mailing list at the bottom of the page to get notified of new posts and information.
Babushka's Kitchen brings back one of our annual favorites with the Ocktoberfest menu! We love to party with our neighbors and this is a great reason to break out some of our favorite German foods. Hurry in, the Oktoberfest menu only runs for the month of September!
Oktoberfest Sampler Platter
$19.99
Jumbo hand-breaded Schnitzel with gravy, a grilled Johnsonville Bratwurst with sauer-kraut & dumplings, one large Stuffed Cabbage in tomato gravy, homemade sweet-sour German Potato Salad with real bacon, our special Green Beans with dill, all served w/ our homemade Applesauce and a slice of hearty Rye bread & butter.( Add a Potato Pancake or a Pierogi to this meal for only $2.00)
Schnitzel with Gravy
$13.99
Chef Dave is at it again - you won't forget this meal it's amazing! Jumbo hand-breaded boneless pounded pork schnitzel, topped with our savory roast pork gravy & served with our homemade sweet-sour German potato salad, plus a side of roasted sauerkraut & Bacon dumplings, plus a slice of Rye bread & butter.
Two Johnsonville Bratwurst Sausages served on roasted sauerkraut & BACON dumplings, warm German potato salad, a side of chunky applesauce, and a slice of rye bread & butter
Sometimes you just gotta have a schnitzel! Jumbo pork schnitzel served with our brown gravy.
German Potato Salad - Side
$2.99
An individual serving of our warm sweet-sour german potato salad.
Brat-ME, Indiviual Bratwurst
$4.29
One Johnsonville Bratwurst served on a bed of sauerkraut and dumplings.
Please reload