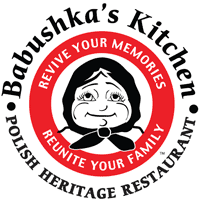 Welcome Back!
Although Babushka's Kitchen no longer serves up your favorite Polish-American heritage food, here are some memories for you from the restaurant. Soon we'll start to post recipes and more photos of your favorite soul-warming foods. Join our mailing list at the bottom of the page to get notified of new posts and information.
BABUSHKA'S KITCHEN IS RETIRING MAY 31, 2014
HELP US CELEBRATE THE END OF AN ERA!!
After nearly a decade of rolling pierogi and stuffing cabbages, I am ready to retire and spend more time with my kids and my grandchildren. My retirement will mean that we bring Babushka's Kitchen to a close on May 31, 2014.My team and I thank all of our loyal fans for the many years of fun and fulfillment that Babushka's Kitchen has brought to us and to families like yours.
We are celebrating all month long and want you to come join us for a delicious lunch or dinner. Or make a reservation and bring your Mom in one last time for Mother's Day! We will be open regular business hours (Tue-Sat 11:30am - 8pm) the entire month of May (and open 11:45am to 4pm on Mother's Day Sun May 11th) to serve you and your families those delicious Polish-American dinners you love from us.** If you have gift certificates please come in and use them before we close. (Please note there will be no cash refunds so please use your certificates on our delicious Polish food dine-in or carry-out.) **
This is also a great time to stock up your freezer with your favorites. Stuffed cabbages and pierogi can be frozen for up to six months and enjoyed anytime you want them. Give us a call and order a full tray of 16 Jumbo stuffed cabbages for $62 or get a half tray of 8 for $32. Pierogi can be ordered in 6 packs and pricing varies with variety. Please order at least 24hrs in advance for these bulk items (216) 447-9277.
On behalf of my late wife Nancy (Momma Babushka), my daughter Beth, and the rest of my staff, I thank you for all the years of support and fun that we have had. Rekindle your memories one last time with Babushka's Polish Soul Food! I look forward to seeing you stop by the Kitchen throughout the month of May to celebrate and to wish our team well.
Sincerely,Dave S. Abramowski
Owner, Babushka's Kitchen