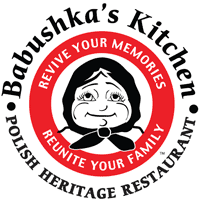 Welcome Back!
Although Babushka's Kitchen no longer serves up your favorite Polish-American heritage food, here are some memories for you from the restaurant. Soon we'll start to post recipes and more photos of your favorite soul-warming foods. Join our mailing list at the bottom of the page to get notified of new posts and information.
As the catering business grew, they decided to delve into the dishes and old time recipes of their heritage, and Nancy created a delicious pierogi dough and fillings to add to their repertoire. She named them after Dave's middle name, and so Stash's Pierogis was born. They won Best in Ohio the first time they entered a contest, and soon upscale markets, restaurants, hotels and vegetarian food outlets began clamoring for the product. The ethnic food demand started there, and Dave & Nancy began to create recipes for their all-handmade products -- this comfort food could truly be called Polish soul food. They began to sell their pierogis through the internet and food distribution channels.

Babushka's Kitchen is the culmination of a dream by Dave & Nancy Abramowski, originally from the Slavic Village neighborhood in Cleveland, Ohio. After leaving their corporate careers through downsizing, the couple found themselves with three children in college and little income. They began their culinary quest as caterers in the Kent area, with their assignments ranging from personal chefs who served couples breakfasts in bed for special occasions to catering for movie shoots from major film studios who came to Cleveland, to MTV music videos, and then corporate catering, weddings and everything in between.
In the meantime, they accepted an offer to run a breakfast and lunch restaurant in an office building in downtown Akron, but after 5 successful years, they moved on to their real dream -- Babushka's Kitchen -- when they found a tiny place in Northfield Center where they could share their love for Polish food and provide a place for their customers to reunite their families and revive their memories. Since 2004, Babushka's has been winning accolades from the food community, including major magazines and publications, as well as television appearances and radio interviews.
In 2010 Nancy was diagnosed with a rare form of cancer and in 2013 she lost her battle and started making Pierogi in heaven. Babushka's Kitchen closed in 2014 but the memories of the delicious food and Momma Nancy's hospitality live on in our recipes, photographs, and memories.

​